Why Ecocraft® Products?

Foodservice packaging made from unbleached natural paper is more than just a sustainable look or marketing trend.  Unbleached natural paper was chosen for the EcoCraft® line due to its real impact in reducing raw material waste.  The chart below presents an overview of the significant waste reduction advantages in producing unbleached natural paper.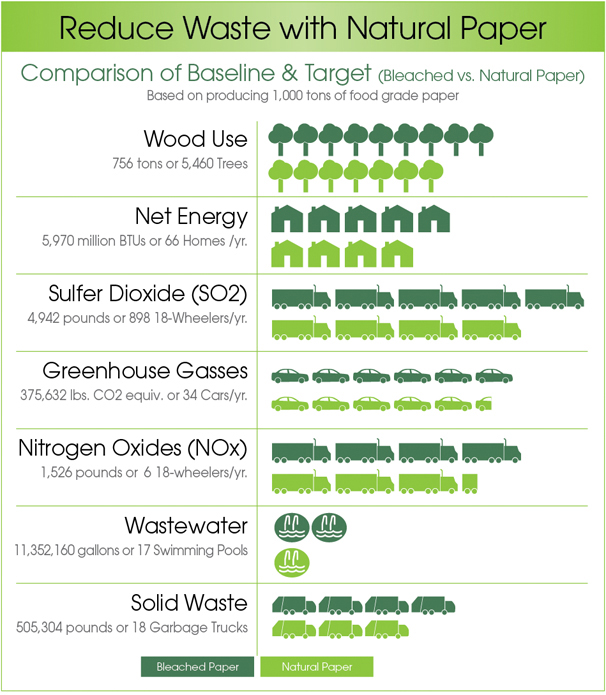 Natural Advantages of EcoCraft®
Made with FDA food-grade, 100% unbleached, chlorine-free paper
Packed in 100% recycled paperboard inner-carton and tray dispenser packaging to reduce raw-material waste
Soy-blended dry wax on interfolded sheets reduce reliance on petroleum wax
New dispenser carton and tray design includes printed facts and information about the sustainability benefits of EcoCraft®
EcoCraft® products, on average, contain 20% pre-consumer waste fiber
Multiple EcoCraft® products are third-party certified compostable
Reduces your carbon footprint by purchasing form-fitting, "right size," flexible packaging with high case counts and small case-cube size
An experienced national network of sales representatives that can help advise your business on ways to improve your sustainable packaging design
With our EcoCraft® brand, we were the first company to offer a full stock line of unbleached, sustainable foodservice packaging in North America. We believe sustainability is an ongoing journey of continuous improvement and evolvement. This approach propels us to constantly enhance our sustainable practices and products. This commitment to affordability and innovation has allowed BagcraftPapercon to create the most recognized brand of sustainable flexible packaging available in the industry.
We believe in the "Triple Bottom Line" approach of continuous improvement in sustainable packaging design:
Social Responsibility – good for the people
Ecological Responsibility – good for the planet
Economic Responsibility – affordable choices
*Environmental-impact estimates made using the Paper Calculator presented by Environmental Paper Network.
For more information, visit http://c.environmentalpaper.org/home.
TAKE A SIMPLE STEP TOWARD A SUSTAINABLE FUTURE.